A multi-cloud file management app to empower digital professionals like yourself
We built Drivey to provide a better multi-cloud storage experience for everyone from marketers to developers to hobbyists, but especially for anyone that wants a better way to manage their files across multiple cloud drive providers.






We know the problems all too well...
The bar is low for file management UIs
Google Drive and OneDrive have come a long way, but they still leave a lot to be desired. If you use more than one cloud provider, it can be painful trying to keep track of all the changing interfaces. Drivey provides a consistent file storage experience across every provider.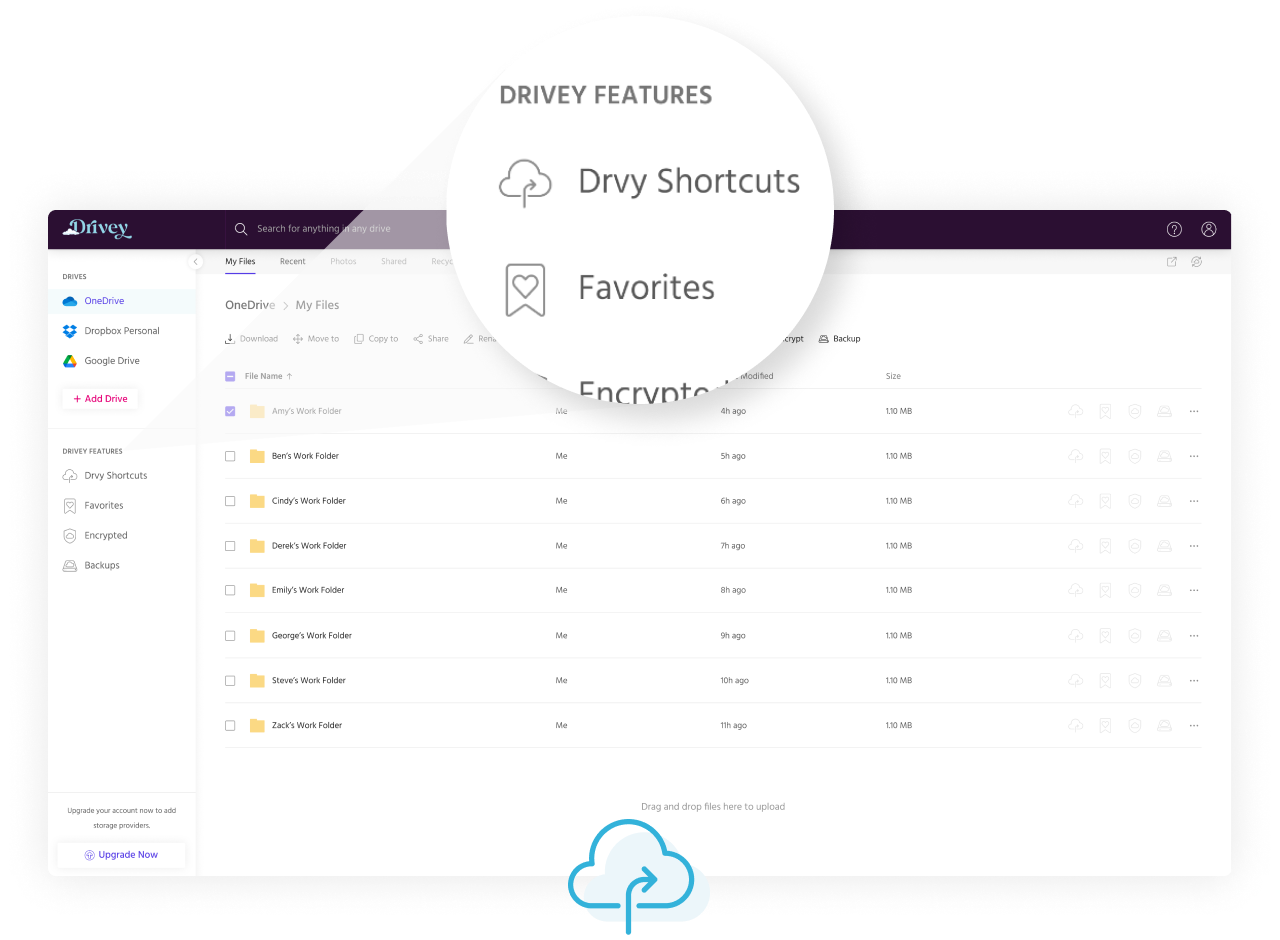 Clients (and family) share files from EVERYWHERE
Google Drive, OneDrive, Dropbox personal, Dropbox business, oh my!
Keeping track of where files are can be a nightmare, especially for documents that you didnt create.
With Drivey's cross-cloud shortcuts and file transfers, you can finally keep everything organized no matter what drive account the file was created in.
Forgot which drive you saved that damn file to..
Life can create an overwhelming amount of digital records. Keeping track of all of your files can be a pain to say the least. Drivey's advanced search allows you to easily search and filter across all of your connected accounts to find the files you are looking for faster and easier.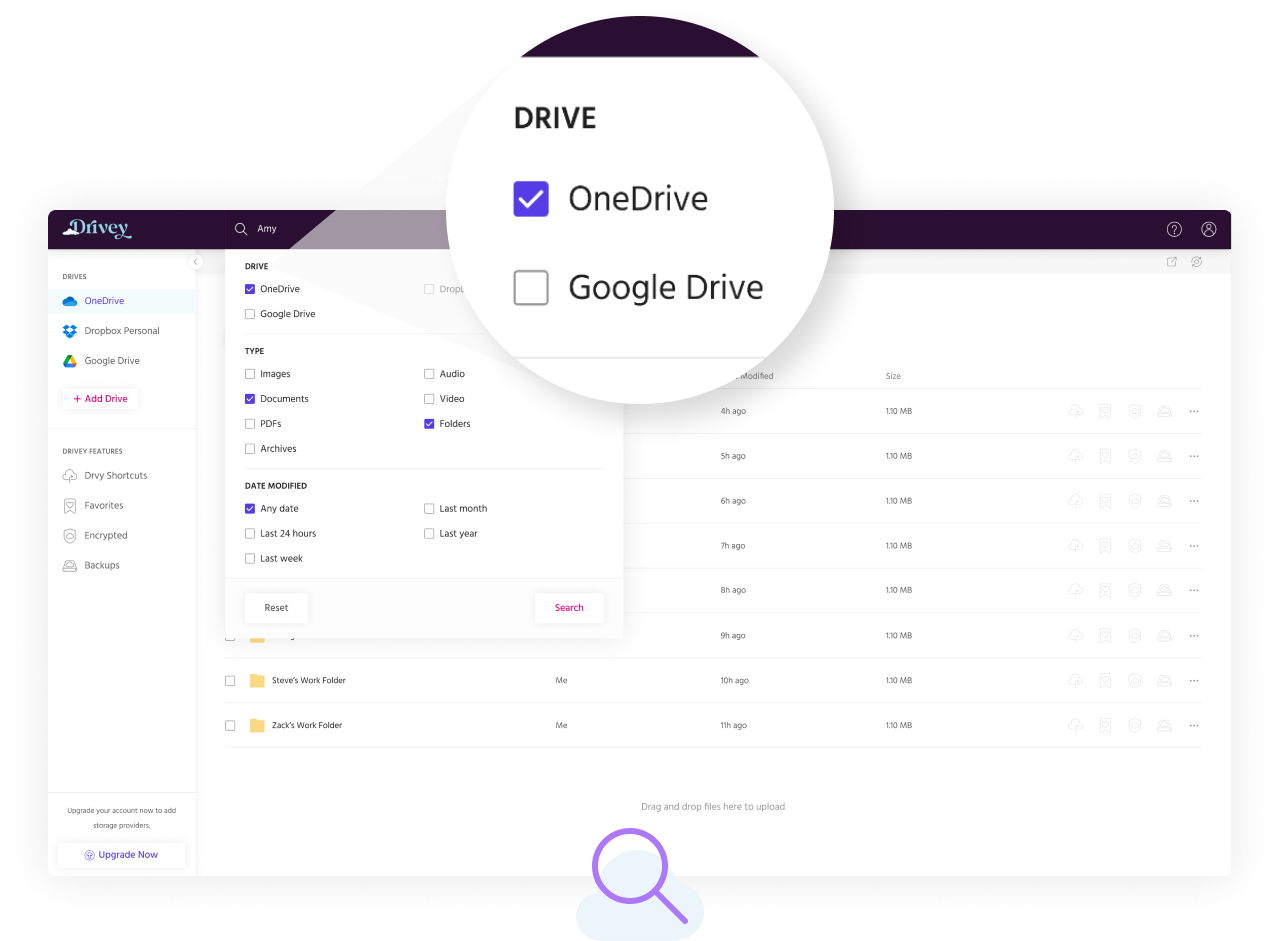 Too many tabs!
If you're like us, you already have way too many browser tabs open. You don't need more just to manage three different cloud storage providers. With our Chrome and Edge extensions, you can conveniently manage all of your drive accounts without any dedicated tabs.
You want more security for your sensitive cloud files
The cloud is great, it's convenient, it's fast; but it also has its fair share of security risks. Drivey helps you keep your sensitive data extra secure with our off-account backups and 256-bit encryption. Give yourself the extra piece of mind with added security and easy to access backups.
Say goodbye to the pains of managing multiple file storage providers
Enjoy a better cloud storage experience with Drivey
We took the best experience and features from each cloud storage provider, and then we made them better
Work faster with an improved user experience
Our goal was to create the best cloud file management experience, and to keep it consistent across all supported providers
Manage all of your drives in one peace
Switch between and manage multiple cloud files account with ease all from one app
Access your files the way you want
Drivey is available on the web, as a Chrome Extension, and an Edge Add on
Take your drive experience to new altitudes with Drivey's custom features
Copy, Upload, and Move files between cloud accounts
Easily transfer files between Google Drive, OneDrive, Dropbox person, Dropbox business, Sharepoint, Box, and more.
Find your files faster with multi-drive search
Quickly search and filter across all of your connected accounts, fast and secure.
Keep your favorites together with Drivey global favorites
Global favorites gives you a new wa to quickly access your most important files, no matte what account they are in.
Organize your files across every cloud with Drivey shortcuts
Our unique .drvy links allow you to organize files and folders across any cloud storage account. You can even use them to organize links to any web page.
Secure sensitive information with encryption
With 28-bit encryption capabilities, Drivey helps you keep your content secure, even in the cloud
On-demand off-account backups
Drivey provides secure on-demand backups, stored outside of your standard cloud account. This allows you to keep your long-term backups safe, and your account size low.
Get started with just one click
No new accounts or passwords needed, simply log in with an existing cloud file provider and start soaring to new heights with Drivey!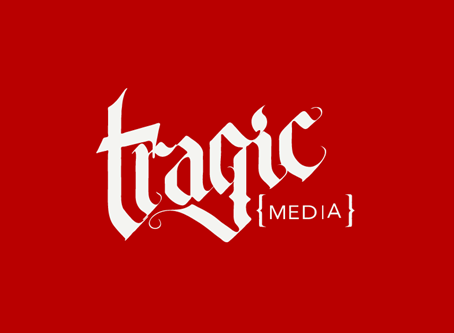 Built by us, For You (and Us)
Honestly, we built Drivey because we were tired of jumping between applications and trying to keep track of all of our client files. And we know you are too! Drivey empowers digital professionals, businesses, and individuals alike. We are confident you will find new productivity and control of your cloud files with Drivey.